Bestmacros - Traffic Generator Bot Cracked
WebSite:
Traffic generator bot | Bestmacros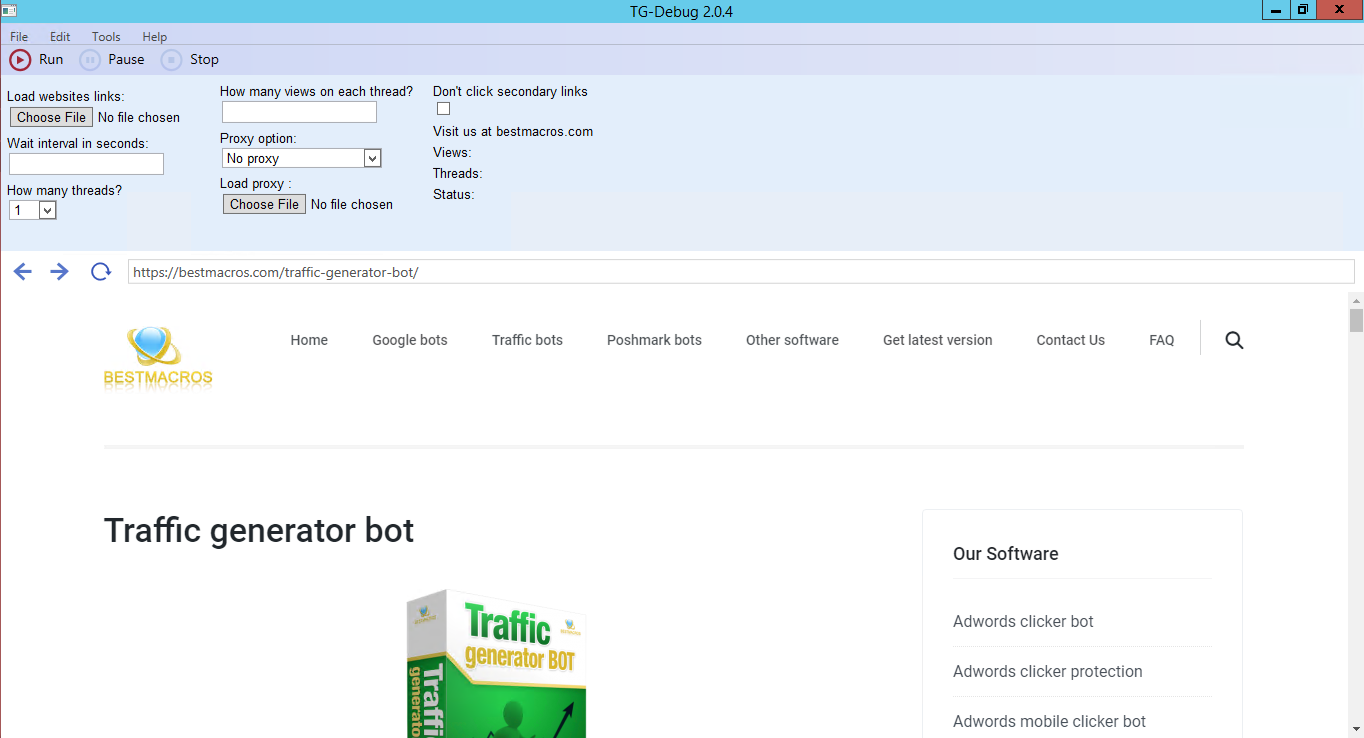 Auto generate web traffic with windows application bot​
This windows application bot will help you to Auto generate web traffic by visiting stated link with stated parameters.
With this bot you can easily generate web traffic to any website or blog.
You can use it to stress test your website with real browsers, emulating real visitors of your site.
You can generate traffic with SINGLE CLICK!
Highly recommended!​
This script was made to help you with your Internet activity.
Forget about annoying manual traffic generation!
Automate it!
Main Features of the bot:​
Multi threaded.
Works on Windows 7/8/10.
Works on multiple links.
Opens invisible real browsers.
Clears cookies after each round.
Can work without proxies.
Set time interval between visits.
Set amount of visits per thread.
Supports socks5, socks4, public http proxies and private http proxies.
Can get free proxies.
External user agents list supported.
Auto click internal link to prevent bounce rate.
Ability to provide skip links to prevent from clicking (links scraping option provided)..
Up to 200 simultaneous threads supported!
Installation not needed – the software is ready to run!
Special Debug version added – where you can actually see the browsers and pages opened by the bot.
This will help you on your daily Internet activity.
If you are even thinking about doing business on Internet, you'll want this script.
Auto generate web traffic with this super powerful Traffic bot.

Please note that we do not guarantee that the bot visit will be counted by websites as it is mainly depend on the quality of your proxies and target website settings and limitations.
Watch how it works:

​

/

Download

Hidden content

You need to reply to this thread in order to see this content.

Or upgrade your account.

See details